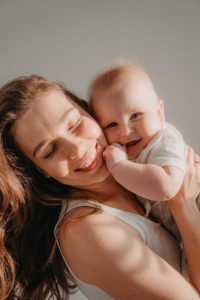 Mother's Day is right around the corner, which means you're on the hunt for the perfect gift to show the special woman in your life a token of appreciation. While you could go with the traditional candy or flowers, why not give her a gift that will keep on giving? Research has found a close connection between oral and general health. You can ensure she always looks and feels her best with 4 dentist-approved gifts.
1. Electric Toothbrush
Many mothers don't spend a lot of time focusing on self-care because life can get pretty busy when raising a family, managing a home, or juggling a career. They might rush through their oral hygiene routine or skip brushing before bed, which can increase their risk of tooth decay and gum disease.
An electric toothbrush can help balance any shortcomings because it offers more brush strokes per minute than a traditional toothbrush. Not to mention, many come with special features, like a pressure sensor or timer, to ensure an effective cleaning routine. They are also easier to hold, which can be great for arthritic hands.
2. Waterflosser
Flossing is equally important as brushing to keep gum disease at bay. The preventable infection not only leads to tooth loss but can also increase the risk of various health issues, like pregnancy complications, heart disease, and respiratory illness.
A water flosser makes flossing feel like less of a chore. A pressurized gentle stream of water cleans the most hard-to-reach areas in the mouth quickly and effectively. It's a handy product for busy mothers on the go.
3. Whiter Teeth
You can give the gift of confidence for Mother's Day with a professional whitening treatment. Whether using an in-office or at-home solution, her teeth can get up to 8 shades whiter for a smile that's as bright as her personality. With the correct aftercare, her results can last for many months or years.
4. Chocolate
Not all candy is viewed equally in the eyes of dentists. Chocolate is preferred over chewy or sticky candy because it's less likely to linger in the mouth. Not to mention, dark chocolate contains a chemical compound called CBH, which can help harden tooth enamel. Mother's Day isn't complete without a sweet treat.
Don't give a gift that will lose its beauty or sit on a shelf after a few weeks. Instead, support the wellness of the special lady in your life through the power of healthy teeth and gums.
About Dr. Alberto J. Lamberti
Dr. Lamberti earned his dental degree at the Tufts University School of Dental Medicine and has continued his education in many specialties, including cosmetic dentistry and prosthodontics. He strives to help each patient achieve their best smile. Request an appointment through our website or call (561) 430-2705.