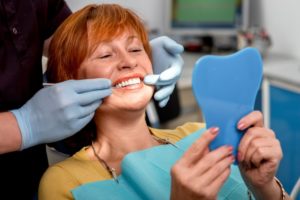 A gapped smile from missing teeth can really cause distress. Not only can it slowly whittle away at your self-confidence, but it can negatively affect everyday functions like speaking and eating. Fortunately, dental implants have provided a way to restore your smile, as well as your natural abilities. Considered the gold standard of tooth loss solutions, implants use biocompatible steel posts to naturally integrate with your jaw, giving unparalleled stability and longevity. But how long can you count on your new, natural-looking grin to last? Here's what to know about the lifespan of dental implants.
How Long Can You Count on Dental Implants to Last?
While traditional tooth replacement options like dentures or bridges will last for a few years, you can count on dental implants to complete your smile for several decades to a lifetime! As stated above, since they are integrated with your jaw through a process called osseointegration, they can be relied upon for a very long time.
However, their longevity will depend on various factors, such as:
Their location: If your dental implants replaced your rear molars, they will likely not last as long as those placed in the front of your mouth. Your back teeth receive much more force and strain while you chew.
The frequency of your dental visits: It will be important to be consistent in visiting your dentist for your six-month checkups and cleanings. They can keep an eye on any developing oral health issues, such as gum disease, and treat it before it negatively impacts your implants.
Your oral hygiene routine: Maintaining a consistent dental routine will be essential in extending the life of your implants. By brushing twice a day and flossing daily, you will keep your mouth healthy and decrease the chances of implant failure.
It is important to note that while your implant's lifespan is extensive, the restoration that is on top of your implant will usually need to be replaced after about 10 to 15 years. Of course, this will also depend on where it is located in your mouth, too.
How to Get the Most out of Your Dental Implants
To get the most possible time from your implants, you will have to take preventive measures. The following are great tips to extend the lifespan of your restoration:
Maintaining proper oral hygiene: While your implant and restoration cannot get cavities, your gums can become infected. As stated above, consistently caring for your smile with good habits is essential.
Avoiding tobacco products: Smoking can keep your gums from getting adequate oxygen, which can increase the risk of implant failure.
Being mindful of your implant: Be sure not to use your teeth as tools or eat extremely hard things without being careful.
Visiting your dentist often: As already mentioned, your dental team will play a big part in keeping your new pearly whites healthy for years to come!
About the Author
Dr. Steven Feit has 30 years of experience in keeping smiles whole and healthy! He earned his Doctor of Dental Medicine from New Jersey Dental School and regularly exceeds the required amount of continuing education for dentists every year. With the use of personalized plans and advanced dental technology, he provides a full range of dental services, including dental implants. To schedule an appointment, contact him through his website or call (561) 430-2705.