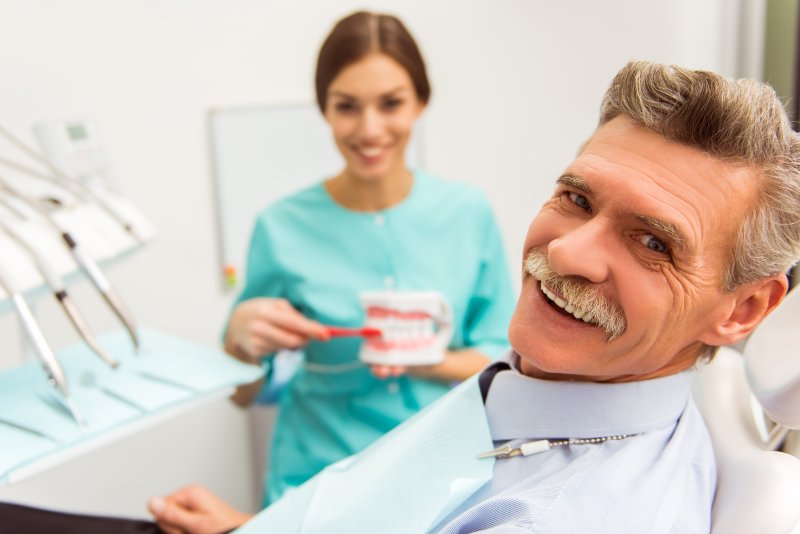 If you have dentures, you probably know all about how great they are; they can give your smile an incredible overhaul that'll have you looking and feeling fantastic. However, just like your natural teeth, your dentures are very susceptible to staining and discoloration as time passes. To prevent this, you must take proper care of them and keep them clean! Here are a few things you can do to keep your dentures looking white and bright, as well as some things you should avoid.
Effective Methods for Whitening Your Dentures
If you want to whiten your dentures, there are two main approaches: in-office whitening, which is conducted by your dentist, and at-home whitening which you can do yourself.
If you opt for in-office whitening, which is typically the most effective method, you'll likely be impressed with the results—your dentures will look brand spanking new! Your dentist will use special tools and equipment to polish your dentures and remove any visible surface stains in a matter of minutes. Also, these professional cleanings are so effective that they're only needed twice per year; how's that for efficiency?
If you'd rather whiten your dentures at home, you need to pay very close attention to which product you select and how you use it. A quick overnight soak in non-abrasive dental cleaner will help to loosen and remove stains from your dentures. Low-abrasive hand soap can also be used; simply pair it with a soft-bristle toothbrush and gently brush the surface of your dentures using small, circular motions.
What To Avoid When Whitening Your Dentures
Even though whitening your dentures might seem like a straightforward and simple process, there are a few things you should completely avoid doing. Certain products or cleaning methods can damage them, including:
At-home teeth whitening solutions that are meant for your teeth often contain bleach or other similar chemicals that could compromise your dentures.
Abrasive cleaning products, including harsh toothpastes, cleaners, and toothbrushes with stiff bristles, can all scratch your dentures and compromise their shine.
Hot water should be avoided, as soaking your dentures in it can warp and disfigure them.
Other household mixtures like glass cleaner, baking soda, lemon juice, and chloride solutions can all damage your dentures while making you ill.
Preventing Future Staining
While it's important to select the appropriate whitening method and avoid certain things, consistent care and upkeep for your dentures is the best way to ensure their preservation.
Handle your dentures with care when they're outside of your mouth.
Rinse your dentures often in warm (not hot) water or a cleaning solution.
Visit your dentist every few months for regular checkups and cleaning.
If you put effort into keeping your dentures clean, you'll be rewarded with a bright, lasting smile. Just be sure to whiten them in a correct manner; otherwise, they can't do their job.
About the Author
Dr. Steven H. Feit has served patients in the greater Boca Raton community for over 30 years. His practice offers a wide range of services including cosmetic, preventive, restorative, and emergency dentistry. Dr. Feit received his dental doctorate from the New Jersey Dental School, and he completed his CAGS in Prosthodontics at the Goldman School of Graduate Dentistry at Boston University. He also holds membership in many professional organizations including the American Dental Association and the Florida Dental Association, among others. If you have any questions about the article or would like to schedule an appointment, you can contact Dr. Feit through his website or by telephone: (561) 338-7535.