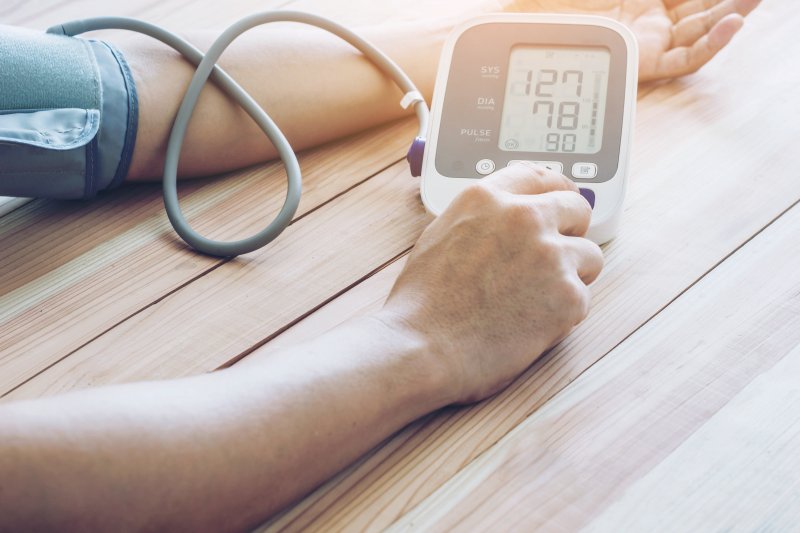 One of the best indicators of good physical condition is having a steady level of blood flow. This is important for providing your heart and the rest of your organs with oxygen and nutrients to sustain your well-being. But did you know poor periodontal health can impact your overall condition? Read on to learn the connection between gum disease and high blood pressure, and how you can actively avoid the negative affects!
The Relation Between Gum Disease & High Blood Pressure
Periodontal disease is an infection in the gums due to plaque buildup. This usually causes gingivitis—swelling in the gum line—and, if it worsens, can damage the connective tissues holding your teeth in place. Additionally, the inflammation-causing bacteria can potentially escape into your bloodstream and travel to the heart, increasing your risk of serious issues like heart attacks and strokes.
High blood pressure, or hypertension, is when your blood flow is at a consistently elevated level throughout the day. This can occur due to an increased strain in the bloodstream, and if there are bacteria that cause inflammation, they can make it more difficult for blood to travel. Furthermore, recent studies reveal that those with moderate to severe periodontal disease are more likely to have hypertension. For this reason, maintaining healthy gums is crucial for reducing high blood pressure.
How to Prevent Gum Disease
Whether you're trying to reduce hypertension or simply want to preserve your pearly whites, preventing plaque buildup is vital. Here are several ways you can keep your gums clean:
Brushing twice a day and flossing once a day can significantly reduce deposit buildup around and in between your teeth.
Avoiding chewing or smoking tobacco products not only helps your smile stay clean, but can also prevent dangerous health issues, like oral cancer.
Visiting your dentist twice a year or more can both preserve your teeth and gums as well as keep track of any developing dental problems that can be addressed early on.
Since gum disease can affect your chances of having high blood pressure, it's best to prevent it by practicing a good dental hygiene! Speak with your dentist if you have any concerns, and they'll be more than happy to offer additional help.
About the Author
Dr. Steven H. Feit provides outstanding, comprehensive, and passionate dental care for Boca Raton, Fl and the surrounding communities. His enthusiasm for dentistry leads him to regularly pursue continuing education, that way he stays on top of the latest technology and techniques. With his expert team, he offers a wide selection of treatments including checkups, cleanings, and periodontal therapy. If you want to know more about the relation between gum disease and hypertension, feel free to visit his website or call 561-338-7535.