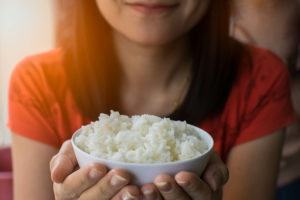 Professional teeth whitening is one of the most popular cosmetic dentistry treatments. It is cost-effective, and it can give you a truly stunning smile. The only significant downside to professional whitening is that its results do not last forever. However, there are some things you can do to protect your freshly whitened smile and ensure that it stays as bright as possible for as long as possible. Your diet plays a big role in the color of your teeth. Let's discuss what you should and shouldn't eat following your whitening treatment.
Immediately After Your Treatment
The whitening process temporarily makes your teeth more vulnerable to stains. Hence, during the first 24 – 48 hours after your treatment, you should be extra careful to avoid anything that might discolor your teeth. As a general rule of thumb, do not consume anything that would leave a stain on a white t-shirt. A few examples of items you should stay away from include coffee, red wine, berries, soy sauce, and anything with powdered cheese.
Instead, stick to eating white or clear foods. Here are some things that are commonly included in a "white diet:"
Pasta with white sauce
Chicken
Turkey
Rice
Mashed potatoes
Bananas
Porridge
Yogurt (without dark fruit or artificial coloring)
You can also enjoy things like white wine and clear sodas. However, such beverages tend to be high in sugar and acid. Consume them in small amounts, and avoid them altogether if you notice that your teeth are extra sensitive after your whitening treatment.
After the First 24 – 48 Hours
After the first 24 – 48 hours, you can begin to consume a wider variety of foods and beverages. However, you should enjoy darker items in moderation. It may also be beneficial to consume foods that whiten teeth in Boca Raton, which have natural properties that can help you fight dental stains. Some examples of such foods include:
Strawberries. Despite their bright color, strawberries can actually help you maintain a bright smile because they contain malic acid. However, you must be cautious. Some people recommend applying a fruit puree to teeth to whiten them. This exposes your teeth to high amounts of acid and can actually damage them. Strawberries can be a tasty, healthful snack — but they are not a whitening treatment.
Apples, celery, and carrots. These crunchy foods increase saliva production. Saliva, in turn, rinses away harmful bacteria and staining pigments.
Hard cheeses. Low-sugar dairy products in general are good for teeth. Hard cheeses are particularly beneficial for preventing stains because their texture can help to keep your teeth clean.
With the help of a balanced diet that is low in staining foods and beverages, the results of your professional whitening treatment can stand the test of time!
About the Author
Dr. Steven Feit is a prosthodontist and general dentist in Boca Raton. He is proud to offer Smile Perfected teeth whitening, an innovative treatment that removes dental stains without increasing sensitivity. If you would like to learn more about professional whitening or how to maintain its results, contact Dr. Feit's office at 561-338-7535.