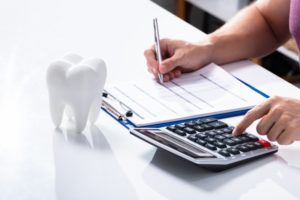 Most dentists agree that dental implants are the best way to replace missing teeth. They are sturdy and long-lasting, and they provide bone health benefits. They also look, function, and feel almost exactly like natural teeth. However, many people hesitate to commit to dental implants because they are concerned about cost. Admittedly, this treatment does present a greater upfront expense than non-implant tooth replacement solutions. Is there a way to fit dental implants in Boca Raton into your budget? In most cases, yes. Let's discuss some of the resources that are available to you.
Insurance
Dental insurance policies vary greatly. However, many of them do cover dental implants. Depending on what your plan's annual maximum is, you may get $1,000 or more off of the price of your implants. Even if your dental insurance does not cover the implants themselves, it might help you to pay for the implant restorations or any preparatory work that you need before your dental implant surgery.
It is also worth taking the time to investigate your health insurance. Some policies offer coverage for the dental implant surgery or other portions of the treatment.
Financing
In most cases, patients do not have to worry about paying for the entirety of their treatment upfront. You may be eligible for low-interest or no-interest financing through a company like CareCredit or Lending Club. They offer a variety of flexible plans, and you can choose one that best fits your circumstances. Your implant dentist in Boca Raton and their team can help you apply for these resources.
HSA or FSA
Healthcare savings accounts (HSA) and flexible spending accounts (FSA) contain tax-free money that is usually applicable to a broad range of dental treatments, including dental implants. You may need to check with your company's HR representative or the bank where your funds are held to find out exactly how to put them toward your new smile. Keep in mind that FSAs typically expire at the end of each calendar year — they are a use it or lose it resource!
Are Dental Implants Worth It?
There are many resources available to help you afford dental implants. Still, you might wonder if they're really worth the money. They are! Not only do they offer outstanding function and oral health benefits, but they might even save you money in the long-term. They have the potential to endure a lifetime. That is in contrast to alternative treatments, which may need to be replaced (and paid for) every 5 – 10 years so.
Are you thinking about investing in your smile? Your local implant dentist is ready to help!
About the Author
Dr. Steven H. Feit is a prosthodontist in Boca Raton who partners with other local specialists to provide top-tier dental implant care. After dental school, he invested years learning about the art and science of dental restoration; every prosthetic he designs is beautiful, highly functional, and built to stand the test of time. Our practice is happy to file insurance claims for patients and help them apply for financing. To learn more about Dr. Feit, his services, or our office's payment policies, contact us at 561-338-7535.