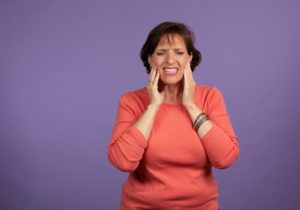 Feeling stressed? You're far from alone. Recent world events, particularly the COVID-19 pandemic, have dramatically increased the level of stress that most people are feeling. Stress can take a toll on your health from head to toe; it can even affect your teeth and gums. In this blog post, a dentist in Boca Raton explains how and what you can do to protect your smile during these uncertain times.
Jaw Problems
Stress can cause muscle tension throughout your body, including the muscles in your face. That tension, in turn, is likely to affect the function of your TMJ (the joint that connects your lower jaw to the rest of your skull). You may therefore experience jaw soreness, difficulty chewing, and other symptoms.
Involuntary teeth grinding is also common among people who are under a lot of stress. The teeth grinding can worsen or cause TMJ problems. It may also cause premature wear and tear to tooth enamel.
Dental Decay
Brushing and flossing are vital for preventing dental decay. Unfortunately, a busy, high-stress lifestyle leads some people to neglect these vital habits, thus greatly increasing their risk of cavities. What makes the situation even worse is that many individuals turn to food to help them cope with stress. Quite a few comfort foods, particularly those with high amounts of sugar, are major contributors to dental decay.
A Weakened Immune Response
Stress lowers your body's ability to fend off infections. It does so by increasing levels of a hormone called cortisol, which lowers the number of contagion-fighting cells in your blood. Thus, you may become more susceptible to oral infections, including gum disease.
Protecting Your Oral Health
You should take measures to reduce your level of stress to the extent possible. For example, if the news makes you worry about the state of the world, you might find it beneficial to limit how much news you watch. You might also try relaxation methods, such as exercise, taking a hot bath, or connecting with loved ones.
You should also stay in touch with your dentist. Many dentists are only providing urgent and emergency care at this time, but even if your dentist's office is closed, you may still be able to reach out to them for help. If you send an email or leave a voicemail for them, they will get back to you ASAP. They will provide you with personalized help on how to protect your teeth and gums during these difficult times.
Stress can endanger your oral health, but you do not have to let it ruin your smile. By doing your best to care for your emotional health and relying on your dentist's guidance, you can protect your teeth and gums.
About the Author
Dr. Steven Feit is a general dentist and prosthodontist in Boca Raton. He has over 30 years of experience, and he is a member of several prestigious professional organizations, including the American Dental Association and the Florida Dental Association. If you would like his help to protect your smile from the damaging effects of stress, contact our team at 561-338-7535.