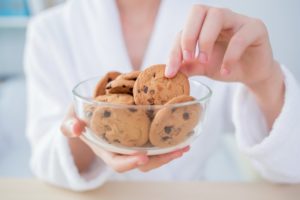 We live in uncertain, unprecedented times. The COVID-19 pandemic has affected the emotional and mental health of countless individuals. Stress or anxiety related to current world events could even make you more likely to engage in habits that could damage your oral health. In this post, we discuss a few of those habits and encourage you to focus your energy on safer, more productive activities.
Habits to Avoid
The following activities are just a few examples of coping mechanisms that could damage your oral health:
Smoking
Nicotine produces an immediate, relaxing sensation, but in the long run, it can actually increase stress and anxiety. Plus, it greatly raises your risk of gum disease, bad breath, tooth decay, and other serious oral and overall health problems.
Constant Snacking
It feels good to eat. Sugar, in particular, has the power to reduce levels of the stress hormone cortisol. However, it can cause serious damage to teeth if it is consumed in large amounts. It combines with bacteria in the mouth to produce plaque and acids that wear away at the enamel and lead to cavities.
Nail Biting
Millions of people bite their nails to cope with stress. However, while this habit might seem harmless, it can also take a heavy toll on your teeth, causing serious damage to the enamel. Biting your nails also makes it more likely that your teeth will break.
What to Do Instead
Here are some healthy, productive stress-coping techniques that may play a role in helping you conquer unhealthy habits:
Get some exercise. If you do not feel comfortable going outside for a walk, try looking up free exercise videos on the internet. Exercise releases feel-good endorphins and helps ease tension in the body.
Refine your cooking skills. Get creative in the kitchen! Not only will this give you a distraction from stressors, but knowing that you are cooking wholesome, nutritious meals may help you to cut back on snacking.
Stay connected. You might not be able to see your friends and family in person, but you can connect over the phone and on video conferencing services. Plan to play games, eat meals, or chat with your loved ones regularly.
Your Dentist Is Ready to Help
Are you worried that stress-related habits have already caused some damage to your oral health? Do not be afraid to contact your dentist for advice. They can provide personalized tips on protecting your teeth through the quarantine. They can also schedule you for a thorough checkup after quarantine ends. In the meantime, if you face a serious dental health problem, they may be available to provide you with emergency care.
Don't let stress wreck your smile! Do your best to avoid tooth-harming habits and instead channel your energy into healthier, more productive activities.
About the Author
Dr. Steven H. Feit is a prosthodontist and cosmetic dentist in Boca Raton with more than 30 years of experience. He has completed numerous advanced training courses that have refined his skills in implant dentistry, aesthetic dentistry, and more. Although the COVID-19 pandemic has affected his practice's operations, he and his team are available to help patients in need. Contact us at 561-338-7535 to learn more about us, ask questions, or request an appointment.