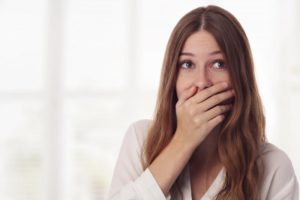 When you first received your dental crown, you may have loved the way it made your tooth look and feel. Now, though, you've noticed a thin black line around the crown's edge. Does that mean something is wrong with your crown, or worse, does it mean that something is wrong with the underlying tooth? Fortunately, the answer to both questions is probably no. A dentist in Boca Raton is here to discuss what that black line around your crown means and what you can do about it.
What the Black Line Means
In the vast majority of cases, a black line around a dental crown is simply due to the crown's composition. Some crowns are porcelain fused to metal (PFM). They have a metal inner shell, and that metal shell is encased by porcelain. The metal makes the crown very strong, and the porcelain provides a natural-looking appearance. In theory, PFM crowns are the best of both worlds. The downside to PFM crowns is that sometimes, that thin metal lining can become visible, resulting in a black line. It detracts from the porcelain's beauty and makes it obvious to onlookers that you have a dental crown.
While a black line at the edge of your crown is probably no big deal, it's still worth a visit to your dentist to have it checked out. There is a small chance that the black line is part of your natural tooth structure and that it indicates decay. It may also be a sign of gum recession. Your dentist will evaluate your tooth and the crown to determine the true cause of the black line.
What You Can Do About It
If your dentist tells you that your PFM crown's metal lining is to blame for that unsightly black line, you can ask about getting the crown replaced with one that is 100 percent porcelain. Porcelain crowns have no metal to take away from their natural appearance. They are also extremely durable and resistant to stains. They generally last for 10 years or longer before replacement becomes necessary. You can expect especially good results from your porcelain crown if you receive it from a prosthodontist, a type of dentist who specializes in dental prosthetics.
On the other hand, if the black line is due to gum recession or another oral health problem, your dentist will have to discuss your treatment options with you. Once the condition of your teeth and gums is stabilized, you can focus on improving your smile's aesthetics.
Do you have a black line around a dental crown? A visit to your dentist's office can help you regain a flawless smile.
About the Author
Dr. Steven H. Feit is a prosthodontist in Boca Raton with over 30 years of experience in his field. In addition to offering general dentistry services, he also provides many types of dental restorations, including all-porcelain crowns. To learn more about Dr. Feit and how he may be able to help you enjoy a healthy, attractive smile, contact our office at 561-338-7535.