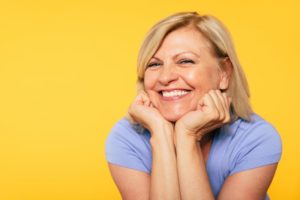 According to the American Association of Oral and Maxillofacial Surgeons, nearly 70 percent of people ages 35 – 44 in the United States have at least one missing tooth. If you are older than 44, it may be even more likely that you have suffered some tooth loss. Fortunately, modern dentistry offers a number of ways to rebuild your lost dentition and help you regain a complete, functional set of teeth. Dentures and dental implants in Boca Raton are two popular options for replacing teeth. In this blog post, we discuss these options and provide some guidance on how you can choose the one that is right for you.
How Do They Work?
A denture is a removable prosthetic that consists of artificial teeth attached to a gum-colored base. Natural suction, a mild adhesive, or small attachments help dentures to stay in place. Modern dentures are much more comfortable, functional, and natural-looking than those of generations past.
A dental implant is an artificial tooth root. After it gets inserted into the jaw, it fuses with the bone around it. Then, a prosthodontist or dentist in Boca Raton attaches an artificial tooth (or teeth) to the top of it.
A Quick Comparison
Let's compare some characteristics of dentures and dental implants:
Function
Dentures may slip out of place during eating and speaking. Individuals who wear them may have to take certain precautions to make sure they stay in place. Dental implants and their prosthetics tend to be extremely secure and function almost exactly like natural teeth.
Aesthetics
A partial denture, which replaces multiple teeth throughout a dental arch but not all of them, may draw attention to itself due to the small attachments that are required to keep it in place. Full dentures can look quite natural. Implant-retained prosthetics are virtually indistinguishable from natural teeth when they are designed by a qualified prosthodontist.
Longevity
Dentures may last for 5 – 8 years or so. Their relatively short lifespan is due to the fact that tooth loss causes bone deterioration, which affects the shape of the jaw and alters the way the dentures fit. Dental implants help the jaw to keep its original shape, which means that implant-retained prosthetics tend to last for many years.
Making Your Decision
Your dentist will carefully evaluate your oral health and your level of tooth loss before making a treatment recommendation. They will likely advise you to get dental implants if your circumstances permit. However, if you opt for dentures, you can still look forward to owning a pleasant-looking and functional smile.
Are you ready to replace your missing teeth? Either dental implants or dentures may be your ideal solution.
About the Author
Dr. Steven Feit is a prosthodontist and dentist in Boca Raton. He has an intimate understanding of how the teeth work and the factors that go into designing long-lasting, natural-looking dental prosthetics. He provides both traditional and implant-supported tooth replacements. If you would like to speak to him about rebuilding your lost teeth, contact our office at 561-338-7535.