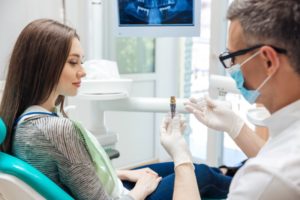 If you are missing one or more teeth, your dentist may recommend that you receive dental implants in Boca Raton to replace your lost dentition. The dental implant process requires that you undergo a minor oral surgery, wherein prosthetic tooth roots (the dental implants) will get placed into your jawbone. Depending on who performs the procedure, your surgery may be guided or non-guided. Both of these approaches can be successful, but there are some key differences between them.
Guided Implant Surgery
The process for preparing for guided implant surgery involves the use of a cone beam scanner, sometimes called a CBCT scanner. The machine is basically a super-powered X-Ray, which produces a three-dimensional representation of your oral structures, including your bone, teeth, nerves, and connective tissues. Using the results from the scan and help from a local dental laboratory, your oral surgeon is able to design a surgical guide that lets them know exactly where they should place each implant.
The primary advantage of guided implant surgery is that it eliminates the need for guesswork and can reduce the risk of complications, especially in cases where multiple implants are being placed. However, preparing the surgical guide can require a significant amount of time and may add to the total cost of your implant procedure.
Non-Guided Implant Surgery
Non-guided implant surgery is sometimes referred to as "freehand," but do not let such designations fool you. Oral surgeons still use X-Rays and dental impressions to plan where they will place the implants. However, they do not spend time going back and forth with a laboratory to create an ultra-precise guide.
For many years, before CBCT scanners were widely available, the vast majority of dental implant procedures were performed freehand — and with a success rate of over 95 percent. Most single implant surgeries are still performed using freehand techniques. However, a surgical guide may be desirable if more than one implant is being placed.
Is One Better than the Other?
A study published in 2018 compared results from 20 dental implant patients, half of whom underwent guided surgery and half of whom underwent freehand surgery. At the five-year follow-up, all patients were satisfied with the function and aesthetics of their prosthetics. However, there were two dental implant failures in the freehand group and none in the guided group.
Which Will Your Oral Surgeon Use?
Prior to your implant placement surgery, do not hesitate to ask questions about how your surgeon will perform your procedure. They can clearly explain the pros and cons of any portion of your treatment. Being a well-informed patient can give you confidence that you are making wise choices about how to care for your precious smile.
Meet the Author
Dr. Steven Feit is a prosthodontist and dentist in Boca Raton. He refers patients to a trustworthy local oral surgeon for dental implant placement. If you have questions about your options for tooth replacement or the techniques used in dental implants surgery, Dr. Feit and our team would be pleased to assist you in any way we can. Contact us at 561-338-7535.